Welcome to the home of the UMBC Phage Hunters!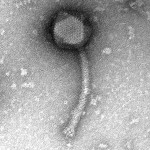 Almost 1,600 UMBC undergraduates have participated in the SEA-PHAGES program since it became one of the first twelve initial institutions to pioneer the program in 2008. The SEA-PHAGES program has since grown to include over 170 institutions and 6,000 undergraduate researchers participating annually. In total, over 30,000 students have generated a collection of more than 18,000 phages participating in SEA-PHAGES and it's predecessor, the PHIRE program.
So far, UMBC Phage Hunters have isolated, characterized, and archived 324 Actinobacteriophages and 337 Bacillus phages. Transmission electron micrographs taken by the Phage Hunters can be seen by clicking on the links prior.
Our undergraduate researchers have sequenced 77 phages, 58 of which have been annotated and submitted to GenBank with UMBC Phage Hunters listed as authors. UMBC Phage Hunters have also been listed as authors on publications. Links to these as well as publications featuring their work can be found in the Publications section.
Communicating science is a large part of the SEA-PHAGES program; fifteen of our Phage Hunters have attended the annual SEA-PHAGES Symposium, long held at the HHMI's Janelia Research Campus, where many have had the chance to listen to and meet remarkable key note speakers, including several Nobel Laureates. All of our Phage Hunters who attended have presented posters at the SEA-PHAGES Symposia and nine have given presentations. Our undergraduate researchers have also presented their work at the UMBC Undergraduate Research and Creative Achievement Day (URCAD), the Summer Undergraduate Research Fest (SURF), and elsewhere.